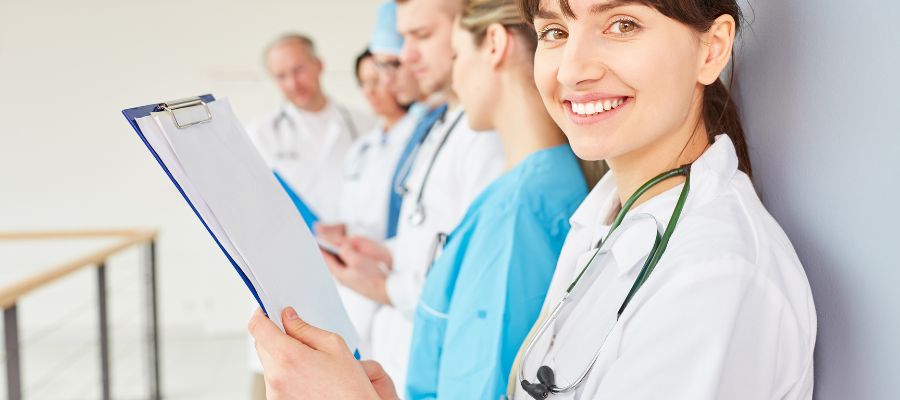 Continuous Education Opportunities at Nurses On Call
Looking to advance your nursing career? Nurses On Call offers continuous education opportunities to enhance your skills and knowledge. From on-site workshops to online courses, take your nursing career to the next level with Nurses On Call.
Looking to advance your nursing career? Look no further than nurses On Call! With over 25 years of experience in nurse staffing, Nurses On Call provides continuous education opportunities for RNs and LPNs who are looking to enhance their skills and knowledge. Whether you're a new or experienced nurse, Nurses On Call offers a wide range of training programs and resources to help you grow professionally. From on-site workshops to online courses, we strive to provide you with the tools you need to succeed. Don't miss out on this amazing opportunity – call Nurses On Call today at 850-474-9803 and take your nursing career to the next level!

Training and Continuous Education Opportunities
At Nurses On Call, we believe in the importance of continuous learning and professional development for our nurses. We offer a comprehensive range of training and education opportunities to support our nurses in enhancing their skills, expanding their knowledge, and advancing their careers. Whether it's through in-house training programs, external courses, certifications, or mentorship programs, we are dedicated to providing our nurses with the resources they need to thrive in their roles.

In-house Training Programs
Orientation and Onboarding
When you join Nurses On Call as a new nurse, we provide extensive orientation and onboarding programs to ensure a smooth transition into your role. Our orientation covers organizational policies and procedures, safety protocols, and familiarizing you with our staffing software systems. We want you to feel confident and prepared from day one.
Skills Enhancement Programs
To help you continuously enhance your clinical skills, we offer a variety of skills enhancement programs. These programs focus on specific areas such as wound care, medication administration, IV therapy, and more. Our experienced nurse educators will work closely with you to identify areas for improvement and tailor the training to meet your individual needs.
Clinical Competency Training
We understand the importance of maintaining clinical competency, especially in rapidly evolving healthcare environments. That's why we offer clinical competency training to ensure our nurses are up-to-date with the latest evidence-based practices and protocols. Whether it's through hands-on simulations or case studies, we provide opportunities for you to refresh your clinical knowledge and skills.
New Technology Training
As technology continues to play a significant role in healthcare, it is crucial for nurses to stay current with new advancements. We offer training programs to help you become proficient in using new technologies and equipment. From electronic health records systems to telehealth platforms, we provide the necessary training to ensure you are comfortable and competent in utilizing these tools.
External Continuing Education Courses
Partnered Courses with Educational Providers
We have established partnerships with various educational providers to offer a wide range of external continuing education courses. These courses cover a wide range of topics such as advanced cardiac life support (ACLS), neonatal resuscitation, geriatric care, and more. Through these partnerships, we ensure that our nurses have access to high-quality education that aligns with their professional goals.
Online Course Platforms
To accommodate the busy schedules of our nurses, we also provide access to online course platforms. These platforms offer a vast selection of courses that can be completed at your own pace and convenience. Whether you're interested in expanding your knowledge in a specific clinical area or developing leadership skills, our online course platforms provide a flexible and accessible learning option.
Specialized Training Programs
Certain specialty areas require specialized training and expertise. We offer specialized training programs for nurses interested in areas such as critical care, pediatrics, oncology, and more. These programs provide in-depth knowledge and skills necessary to excel in these specialty areas. With the support of experienced instructors and hands-on training, you can enhance your expertise and open doors to new opportunities.
Certification Courses
BLS, ACLS, and PALS Certifications
Basic life support (BLS), advanced cardiac life support (ACLS), and pediatric advanced life support (PALS) certifications are essential for nurses working in critical care and emergency settings. At Nurses On Call, we provide opportunities for you to obtain these certifications. Whether you're looking to renew your certification or acquire new ones, we offer courses that will equip you with the necessary skills to respond to life-threatening emergencies.
Specialty Certifications
Being certified in a specific specialty can enhance your credibility and demonstrate your expertise in that area. We offer various specialty certifications, such as critical care nursing, oncology nursing, and wound care nursing. These certifications not only validate your knowledge and skills but also open doors to career advancement and higher earning potential.
Nurse Educator Certification
If you have a passion for teaching and mentoring, our nurse educator certification program is the right fit for you. This program equips nurses with the knowledge and skills necessary to become effective educators in academic or clinical settings. By obtaining this certification, you can expand your career options and contribute to the development of future nurses.
Webinars and Online Courses
Access to Webinar Series
We recognize the value of continuous learning through webinars and online courses. That's why we provide access to a series of webinars covering a wide range of topics relevant to nursing practice. These webinars are facilitated by industry experts and provide opportunities for interactive learning, discussions, and networking.
Online Courses in Various Topics
To cater to diverse learning needs and interests, we offer online courses in various topics. Whether you're interested in exploring alternative therapies, expanding your knowledge in pharmacology, or developing leadership skills, our online courses have got you covered. You can access these courses from anywhere at any time, allowing for flexibility in your learning journey.
Continuing Education Units (CEUs) Offered
Nurses are often required to earn continuing education units (CEUs) to maintain their professional licenses or certifications. At Nurses On Call, we offer courses that provide CEUs, ensuring that you can fulfill your continuing education requirements conveniently. Our courses are designed to meet the standards set by regulatory bodies and professional organizations, making them a valuable addition to your professional development portfolio.
Professional Development Workshops
Leadership and Management Skills
Nursing leadership and management skills are essential for advancing your career and assuming leadership roles. We offer professional development workshops focused on developing your leadership skills, enhancing your ability to manage teams, and fostering a positive work environment. These workshops cover topics such as conflict resolution, effective communication, and strategic planning.
Communication and Interpersonal Skills
Effective communication and strong interpersonal skills are crucial for building effective relationships with patients, families, and interdisciplinary healthcare teams. Our professional development workshops in this area provide practical strategies for improving your communication skills, active listening, and fostering effective teamwork.
Evidence-Based Practice
Staying up-to-date with evidence-based practice is essential for providing high-quality patient care. Our professional development workshops in evidence-based practice equip you with the tools and knowledge necessary to integrate the latest research findings into your clinical practice. You'll learn how to critically appraise research literature, implement evidence-based interventions, and evaluate outcomes.
Quality Improvement
Continuous quality improvement is a fundamental aspect of healthcare delivery. Our professional development workshops in quality improvement focus on equipping you with the skills and knowledge necessary to contribute to the improvement of patient care outcomes. You'll learn about quality improvement methodologies, data analysis techniques, and strategies for implementing sustainable changes in practice.
Mentorship Programs
Experienced Nurse Mentorship
Our experienced nurse mentorship program pairs you with a seasoned nurse who can provide guidance, support, and advice based on their years of experience. Whether you're a new nurse or transitioning to a different specialty, having a mentor can greatly enhance your professional growth. You'll have the opportunity to learn from their expertise, discuss challenging cases, and receive feedback on your practice.
New Graduate Mentorship
Starting your nursing career as a new graduate can be overwhelming, but our new graduate mentorship program aims to provide the support and guidance you need. You'll be matched with an experienced nurse who can help you navigate the transition from student to professional nurse. From time management skills to building confidence in your clinical abilities, your mentor will be there for you every step of the way.
Specialty-Specific Mentorship
If you're looking to specialize in a specific area of nursing, our specialty-specific mentorship program can provide valuable guidance. Whether you're interested in critical care, pediatrics, or any other specialty, you'll be paired with a nurse who has expertise in that area. Your mentor can provide insights into the specific challenges and opportunities within the specialty, offer career advice, and help you develop specialized skills.
Nursing Conferences and Seminars
Attendance and Participation in National and Regional Conferences
Attending national and regional nursing conferences is an excellent way to stay updated with the latest trends and advancements in nursing practice. We encourage our nurses to attend these conferences as part of their professional development. Not only do conferences offer opportunities for learning from renowned experts, but they also provide a platform for networking with fellow nurses and sharing experiences.
Specialized Nursing Seminars
In addition to conferences, we organize specialized nursing seminars that focus on specific areas of nursing practice. These seminars dive deep into topics such as wound care management, geriatric care, and pediatric nursing. They feature expert speakers and provide a forum for in-depth discussions and knowledge exchange. Participating in these seminars allows you to gain specialized knowledge and enhance your expertise in specific areas.
Scholarship and Grant Programs
Financial Assistance for Further Education
We understand that pursuing further education can be a financial challenge, which is why we offer scholarship programs to support our nurses. These scholarships provide financial assistance for obtaining advanced degrees, pursuing specialty certifications, or attending educational conferences. By investing in your education, we aim to empower you to reach your full potential and achieve your professional goals.
Research Grants for Nurses
Research plays a vital role in advancing the field of nursing, and we believe in supporting nurses who are passionate about conducting research. Our research grants provide funding for nurses who wish to explore research questions, contribute to evidence-based practice, and make meaningful contributions to the nursing profession. Whether it's a small-scale research project or a larger study, our grants can help turn your ideas into reality.
Collaboration with Educational Institutions
To further expand our training and education opportunities, we collaborate with educational institutions such as universities and colleges. These collaborations allow us to offer a wider range of courses, gain access to state-of-the-art facilities, and tap into the expertise of faculty members. Through these partnerships, we strive to ensure that our nurses have access to the latest knowledge and resources necessary for their professional growth.
Career Advancement Pathways
Promotion Opportunities within Nurses On Call
At Nurses On Call, we value the skills and expertise of our nurses, and we offer promotion opportunities based on merit and performance. Whether you're interested in assuming a leadership position or transitioning into a specialized role, we provide clear pathways for career advancement. We offer ongoing support, mentorship, and professional development opportunities to help you progress in your career.
Guidance on Advanced Degree Programs
If you're considering pursuing an advanced degree, our team is here to provide guidance and support. Whether it's a Master of Science in Nursing (MSN) or a Doctor of Nursing Practice (DNP), we can help you navigate the various degree programs and find the one that aligns with your career goals. We provide information on reputable educational institutions, financial assistance options, and resources to help you make informed decisions.
Support for Pursuing Advanced Specializations
For nurses interested in pursuing advanced specializations, such as becoming a nurse practitioner or a nurse anesthetist, we offer support and resources. Our team can provide information on the requirements, certification processes, and educational opportunities for these specialized roles. We aim to assist you in acquiring the necessary knowledge and skills to excel in your chosen specialization.
In conclusion, Nurses On Call is committed to providing comprehensive training and continuous education opportunities for our nurses. From in-house training programs and external courses to certifications and mentorship programs, we offer a wide range of resources to support your professional growth. We believe that investing in your education and development is essential for delivering high-quality patient care and advancing in your nursing career. Contact us today to learn more about how we can help you thrive in your nursing journey.